Abolition Now!
8 can't wait is bad, tips on staying safe, reading material, birds wearing backpacks
Hey everyone — a brief note to anyone new to following that I'm not an activist or organizer, calling me one does a disservice to those people and let's not do that. I am a cartoonist and writer, my goal is to help folks think more deeply and, crucially, to laugh. In the newsletter and in my illustrated work, I try to help people think more critically about what we consume, and use my internet savvy to suggest sources to look to instead.
That said:
So:
Defunding police *is* the bare minimum
When the next wave of COVID hits let's remember that it is not because of people protesting racism and police brutality.

Let's also remember how just a few weeks ago white supremacists marched, fully armed with no consequences, to demand the country reopen so they could get haircuts. Let's remember that.
It's also important to note that any potential COVID spread during protests is exacerbated by police actions, including the use of tear gas, kettling protestors which makes it impossible to keep distance from other protestors, and jailing people. Incarcerated folks were already disproportionally impacted by COVID because social distancing is not possible behind bars. Jails are a public health crisis, and have always been.
If you are newly disabled by COVID or the protests / looking for ways to support a newly disabled friend, here's a great new twitter that focuses on helping newly disabled folks find support.
Also, check out these hashtags:
Here are petitions to sign.
Give your money away! Now and always. Set up a reoccurring monthly payment if you can.
A brief note that if you can find smaller organizations (such as the ones above!) or just pay people directly, that's great. The non-profit industrial complex is real, sometimes giving to feasibly "good" places means supporting the facade of justice while funding the internal recreation of whatever their mission statement is so doggedly against.
Speaking of money….
Just putting it out there - NYPD budget: $6 Billion NYD Department of Public Health budget: $1.6 Billion We're in the midst of a pandemic that is decimating Black communities, disproportionately. The fiscal priorities of the state tell you all you need to know.
Resources and tips for protesting, *some are NYC specific*
To people trying to compile protest tips from Hong Kong. Sure, protesters can learn from each other. But I spent a lot of time in Hong Kong as a researcher and both the police and their movement are *very* different. Importing methods uncritically can be *really* dangerous.
When sending money for bail funds + protest supplies, use an emoji or unrelated phrase. Specifically marked bail and support funds have been getting blocked.

On sonic cannons - TLDR bring ear protection if you can, move sideways to get out of range

PLEASE, IF U CAN AVOID IT, DO NOT PUT MILK IN YOUR EYES. DO NOT PUT THE OLD HOT MILK IN YOUR BACKPACK AND THEN PUT THE HOT OLD MILK IN YOUR EYEBALLS NOT THE HOT MILK PLEASE. USE WATER IF YOU CAN. !WATER!

If you're media or have been live-streaming to your sizable platform, check out this awesome thread:
good morning good people, dropping a thread here for journalists and media folks on how to ethically report on the protests!
Download Signal, use it. Do not share photos of protestors, even from a few years ago. Signal just offered a blur tool as well.

If you're supporting from home, you can write letters to incarcerated folks:
Zoom is letting the cops listen to free calls. For places to follow re: updates around tech and digital security:
On cops kneeling with protestors: No. It's a tactic and also, lol. Love to kneel for the photo op right before brutally beating everyone up who is here today protesting said police brutality. Checks out. Do share this art from Vrye on how to "kill the cop in your head."
it should deeply concern us all that many police departments in the US have trained with the israeli defense force under a culture of militarism and terror
A clear explanation of why 8 can't wait / other reforms are not good:
To the person who asks "what do we do with the murderers without police?" — and other questions about a better future without the police:
"Replace the cops with mental health workers!" is a really well-intentioned statement, but the current mental health system is also a white-dominated, violent, coercive, and unaccountable structure that disproportionately harms people of colour.
Threads to share to Facebook / with your old family members / with people who only watch Rachel Maddow or whatever:
To simplify following the criminal justice news of the last 36 hours, I posted a set of 10 links to police brutality videos on Facebook Can't do that here, obvs So I'm putting them into a thread
There are some really dope Black women scholars who I want to recognize right now who are doing positively amazing work on movements, race, and social justice.
More reads:
Lastly, a really important thread:
FUNNY + GOOD SHIT I HOPE
The National. THE NATIONAL.
Gator said fuck the cops:
A weak attempt at levity, here it is—what about some birds with backpacks on?
ID: a penguin wearing a tiny backpack. he looks extremely pensive, the 'guin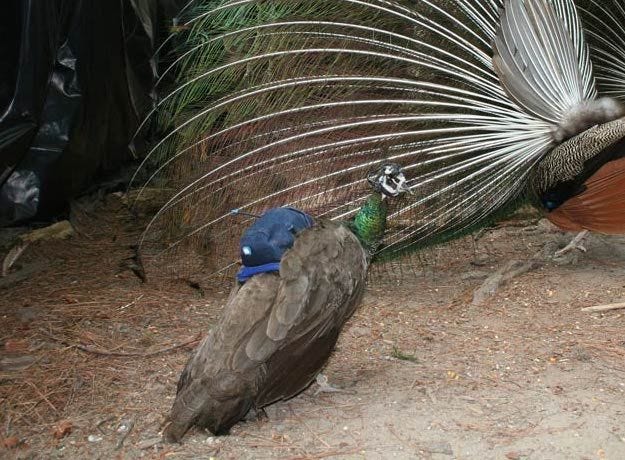 ID: This time we have a peacock who is wearing the tiny backpack.
Previous photo found in a great article called, "7 animals that wore backpacks for science." Highly recommend.
ID: This pigeon who got caught smuggling ecstasy in his tiny backpack.
ID: a very beautiful purply blue bird, looking pensively at the camera. This purple martin is not wearing a backpack but holy shit can you believe how this bird. Simply gorgeous.
Here's a pic of my dog in a mud puddle.
ID: Clementine my dog lying in the midst of a puddle of mud. She's looking up at the camera extremely cutely but the bitch is being a very bad dog.
In love and solidarity,
Shelby + Clem